Most of us can identify with the feeling of security and comfort that comes from arriving home after some time away, or at the end of a long journey. It's nice to be in our own home where we can just relax and put our feet up. viagra generico opinioni
In this chapter we will be introduced to our eternal home – our real home; this world is not our home, we are just pilgrims here. The place that will be described in this chapter is what we have been created for. 1 Cor 2:9-10 tells us: "But as it is written, Eye hath not seen, nor ear heard, neither have entered into the heart of man, the things which God hath prepared for them that love him. But God hath revealed them unto us by his Spirit: for the Spirit searcheth all things, yea, the deep things of God."
Although only a glimpse is given, God reveals just enough to wet our appetites and convince us that this is reality and not a dream, albeit a reality beyond our wildest dreams.
It should also help us to get things into perspective, as we look at this life and the problems that we may be facing, we should remember that all of this – here and now – is only temporary. All the pain and suffering is not the way that God wants it to be; and when we get to our eternal home all of this present age will be forgotten as God wipes every tear away.
It should also make us remember that we should be putting our treasure in heaven and not on the earth.
In John 14:3 Jesus told us that He was going to prepare a place for us – now we get to find out what it is like! And believe me, no expense has been spared!
CHAPTER 21
Rev 21:1
And I saw a new heaven and a new earth: for the first heaven and the first earth were passed away; and there was no more sea.
We dealt with the fact of the new heavens and earth in the last chapter (see notes on 20:11). buy viagra generic
One of the observations that we immediately make is there will be no more sea. This means that the whole system will be different because 70% of this earth is covered with water and it is essential for life. The present hydro-system that deposits 1.5 trillion tones of rain daily on the earth and acts as a purifying / filtering system will be gone.
How will this affect the trees that currently draw up water through their roots? We do know that there will still be rivers but will they be able to provide all the water necessary or will it be a completely new system? Will they still be the same colour, or multicoloured? Will they need roots or has God got a brand new design?
We already know that our new bodies will be Spirit-drive and not blood-drive. (After the resurrection Jesus' body was flesh and bone – not flesh and blood see Luke 24:39 – this new body could come and go as He pleased, through solid walls!).
The horses are also operating on a new system, evidenced by the fact that they fly!
Rev 21:2
And I John saw the holy city, new Jerusalem, coming down from God out of heaven, prepared as a bride adorned for her husband.
What we are about to see is so overwhelming that John feels the need to remind us that it is still him seeing all of this 'And I John'. We are told that John sees a 'Holy City' – we would struggle to imagine a holy street on this earth let alone a whole city that is holy, set apart for God. This city is coming down out of heaven. Does it settle on the new earth or hover above it? Scholars are divided. Either way it has been prepared in heaven by God Himself.
You know what it is like when you have made something for someone – maybe a Christmas present – and you just can't wait for them to open it so you can see their reaction. Well this is the ultimate present that is so beautiful that John describes it as being like a bride adorned for her husband. There is probably not another day in a woman's life that she prepares for as much as her wedding day- everything is just right. And so it is here; and notice, this city is as a bride adorned. This isn't just ready and finished, but 'beautified' and well pleasing to the eye. One thing that separates us from the animal kingdom is our ability to appreciate beauty, and God has gone the whole way with this city.
Rev 21:3
And I heard a great voice out of heaven saying, Behold, the tabernacle of God is with men, and he will dwell with them, and they shall be his people, and God himself shall be with them, and be their God.
This is the last 'great voice' in Revelation so we should take note. 1) Behold / take note, the dwelling place of God is WITH men, 2) He shall dwell WITH them. 3) God shall be WITH them and be their God. Just imagine this, God Himself will be with us – mind blowing!
Jesus gave up the majesty of Heaven to become a man and die for us. However when He rose He remained a man, and even today there is a Man sitting at God's right hand. A Man will judge the world in righteousness; and for eternity Jesus will be a Man, yet God; and He will live with us in this holy city.
1 John 3:2 says: "Beloved, now are we the sons of God, and it doth not yet appear what we shall be: but we know that, when he shall appear, we shall be like him; for we shall see him as he is." We are going to be made like Him.
Will we be un-ageing?  Phil 3:21 tells us that He will "change our vile body, that it may be fashioned like unto his glorious body, according to the working whereby he is able even to subdue all things unto himself." Jesus was around 33 ½ when He rose in His resurrected body and about 30 when He started His public ministry. When God originally made Adam he was fully formed – I suspect around 30 years old. Joseph was about 30 when he came to power. The priests and Levites had to be 30 before they were able to serve. David was 30 years old when he took the throne. Are we to be 30 for eternity? God makes the rules and can do what He wants, but it will be wonderful whatever!
Rev 21:4
And God shall wipe away all tears from their eyes; and there shall be no more death, neither sorrow, nor crying, neither shall there be any more pain: for the former things are passed away.
The first thing that God does is to personally wipe the tears from His children's eyes. You may be suffering now, but God knows and there is an end in sight.
In the book of Romans Paul stated:  "For I reckon that the sufferings of this present time are not worthy to be compared with the glory which shall be revealed in us. For the earnest expectation of the creature waiteth for the manifestation of the sons of God. For the creature was made subject to vanity, not willingly, but by reason of him who hath subjected the same in hope, Because the creature itself also shall be delivered from the bondage of corruption into the glorious liberty of the children of God. For we know that the whole creation groaneth and travaileth in pain together until now. And not only they, but ourselves also, which have the firstfruits of the Spirit, even we ourselves groan within ourselves, waiting for the adoption, to wit, the redemption of our body". (Rom 8:18-23).
 Rev 21:5
And he that sat upon the throne said, Behold, I make all things new. And he said unto me, Write: for these words are true and faithful.
Now God actually speaks to John directly and tells him to write. All of this has been and awesome privilege and responsibility for John, but when God Himself asks you to take down a dictation the pressure is really on!
"true and faithful" The Greek implies that these words are 'genuine and dependable'. So many things in this world are not dependable, but God wants us to know that we can trust these words. There is a day coming when God will make all things new.
Rev 21:6
And he said unto me, It is done. I am Alpha and Omega, the beginning and the end. I will give unto him that is athirst of the fountain of the water of life freely.
It is done. What is done? God's plan – to have a people who would love and serve Him for eternity, whom He could dwell with and be their God – is complete (see Eph 1:9-10).
Jesus is the Beginning and the End and promises to satisfy our thirst for eternity, in contrast to those in Hell.
The Greek could be rendered 'let him come and drink undeservedly'.  None of us will be there by our efforts or because we have done something deserving of this. Only by His grace and for His glory.
The rich man in hell in Luke 16 wanted his thirst satisfied, yet he had no physical body!
Sin promises that which it cannot deliver, it will always leave you unfulfilled, it will always leave you unsatisfied, it can never appease a longing, it will leave you eternally thirsty. However, those who put their trust in Christ will have every thirst satisfied and know inexpressible joy!
Rev 21:7
He that overcometh shall inherit all things; and I will be his God, and he shall be my son.
The way to overcome is by the blood of the Lamb and by the word of our testimony – by faith in what He has done. 1 John 5:4-5 says: "For whatsoever is born of God overcometh the world: and this is the victory that overcometh the world, even our faith. Who is he that overcometh the world, but he that believeth that Jesus is the Son of God?"
Again the promise of adoption is given, where are promised the place of the first-born son, i.e we become heirs of the greatest inheritance.
Rev 21:8
But the fearful, and unbelieving, and the abominable, and murderers, and whoremongers, and sorcerers, and idolaters, and all liars, shall have their part in the lake which burneth with fire and brimstone: which is the second death.
This is God's list and includes everyone that tries to make it on their own terms and refuses to accept God's way through Jesus.
Fearful – cowardly what pill is better than viagra
Unbelieving – 'I'm a good person, I don't need Jesus…'
Abominable – 'to stink' anything abhorrent
Murderers – 'even hatred in the heart'
Whoremongers – 'sexually immoral'
Sorcerers – 'pharmakia' – drugs
Idolaters – making a god to suite yourself
Liars – size & colour not specified!
Is Hell an allegory/symbolism? Some teach it is not a real place and that we simply cease to exist when we die (annihilation). Yet Jesus taught more of Hell than any other single doctrine. He taught it was a real, eternal Hell – where the worm never dies and the fire is never quenched! (Mk 9:44)
John Bunyan, wrote:
"In Hell thou shalt have none but a company of damned souls with an innumerable company of devils to keep company with thee. While thou art in this world the very thought of the devils appearing to thee makes thy flesh to tremble and thy hair stand upright on thy head.  But O what wilt thou do when not only the supposition of the devils appearing but the real society of all the devils of Hell will be with thee; howling, roaring and screeching in such a hideous manner that thou will be even at thy wits end and ready to run stark mad again for anguish and torment. If after 10,000 years an end should come, there would be comfort. But here is thy misery; here thou must be forever. When thou seest what an innumerable company of howling devils thou art amongst, thou shalt think this again; this is my portion forever. When thou hast been in Hell so many thousand of years as there are stars in the firmament or drops in the sea or sands on the seashore, yet thou has to lie there forever. Oh this one word 'ever' how will it torment thy soul. And many are in the net moving toward that furnace of fire."
God will not 'send' anyone to hell, people have a choice. The question is 'why would they choose hell? "They shall have their part…."
"Have you no wish for others to be saved? Then you are not saved yourself. Be sure of that."  

–  C H Spurgeon
"He knows not the Grace of God who has no desire that others should know it, also. You will assuredly long for the souls of others if God has saved your soul"   –  C H Spurgeon
The New Jerusalem
As we now see the city, it is so fantastic that some have tried to say that this is just symbolism, pointing to something else. But we know that the Tabernacle in the wilderness was full of symbolism, pointing to Jesus, yet the Tabernacle itself was literal – just ask the priests who carried it! The Temple in Jerusalem was also full of symbolism yet it too was literal and was destroyed by king Nebuchadnezzar. So here, we do have symbolism that will also no doubt point to Jesus, but that doesn't mean that the city itself is not a reality.
Rev 21:9
And there came unto me one of the seven angels which had the seven vials full of the seven last plagues, and talked with me, saying, Come hither, I will shew thee the bride, the Lamb's wife.
John is now starting to recognise these angels, and for the last time he is told to 'come here' because there is something he needs to see. As with the wine at Cana, Jesus saves the best until last. All that we have known up to this point has been corruptible, but this city will last forever. This is the last thing in God's word, the Bible closes with this picture that He chose to reveal to us, surely to give us hope and an expectancy, to reveal how wonderful will be the eternity He has ready for His own.
People are drawn to the 'bright lights of the city', which are just poor imitations that don't satisfy. The bright lights of this city are the real thing beyond our comprehension.
Herodotus tells us that the walls of ancient Babylon were 120 furlongs on each of the four sides, and we know from history that a river ran through Babylon. That was the best the world had to offer. However this city is 10 times the size and has a far superior river running through it.
Rev 21:10
And he carried me away in the spirit to a great and high mountain, and shewed me that great city, the holy Jerusalem, descending out of heaven from God,
Just as in Revelation 17 & 18 the woman was identified as the city, so here. The bride is not the city only, but rather the city is the residence of the bride; without the bride the city is not complete for it was made for her.
Rev 21:11
Having the glory of God: and her light was like unto a stone most precious, even like a jasper stone, clear as crystal;
A city with God's glory in it. When God's glory fell upon Solomon's temple the priests had to stop ministering and leave it was so powerful (see 2 Chronicles 7:1-3) yet here it will be perpetual.
The light that comes from this city is like a perfect diamond shining brightly. We will find that this city (indwelt by the glory of God) is the only light bearer in the new heavens and earth. There will be no sum or moon.
In verse 16 we will discover that this city is approximately 1500 miles cube, so what John is seeing, evidently from a distance is a 1500 mile high by 1500 mile wide by 1500 mile deep brilliant diamond like structure.
Rev 21:12
And had a wall great and high, and had twelve gates, and at the gates twelve angels, and names written thereon, which are the names of the twelve tribes of the children of Israel:
As John moves closer (or as the city comes closer) he notices the walls, and then twelve angels standing on twelve gates that have the names of the twelve tribes of Israel on them.
Rev 21:13-14
13 On the east three gates; on the north three gates; on the south three gates; and on the west three gates.
14 And the wall of the city had twelve foundations, and in them the names of the twelve apostles of the Lamb
John is being given a flying tour of the outside of the city, and then he sees what is written in the foundations. No doubt he notices his own name, but rather than a sense of pride, I am sure he is overcome with a deep sense of humility. After all, none of us deserve to be there at all, let alone have our name written in the foundations.
Rev 21:15-17
 15 And he that talked with me had a golden reed to measure the city, and the gates thereof, and the wall thereof.
16 And the city lieth foursquare, and the length is as large as the breadth: and he measured the city with the reed, twelve thousand furlongs. The length and the breadth and the height of it are equal.
17 And he measured the wall thereof, an hundred and forty and four cubits, according to the measure of a man, that is, of the angel.
The dimensions as we have mentioned are approximately 1500 x 1500 x 1500 miles square. (some commentators suggest between 1300 & 1500 but its large all the same!) buy cialis 5mg
There are also some commentators that suggest that this could be a Pyramid which would also fit the dimensions that are given; however both the holy of holies in the Tabernacle and in the Temple were both cubic; and Pyramids have long had occultic overtones.
When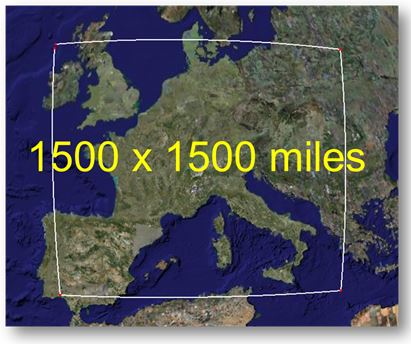 we consider that the gates on each of the four sides have three of the tribes of Israel inscribed on them, we start to see that this is the ultimate of which the Tabernacle was the model with the tribes of Israel encamped around the holy of holies, with three on the north, three on the south, three on the east and three on the west. The Levites were to encamp around the holy of holies in the centre. Here the will be no temple because God will be resident in the city with the bride. Just like the Levites in the wilderness, all who have been made kings and priests to our God will encamp around the throne in the city!
To give some idea of the scale: the base will be approximately 2,250,000 square miles. It would cover most of Europe, including the UK!
Dr Henry Morris in his commentary on Revelation put forward a suggestion of what the population could be.
Assuming that the entire population of the earth from Adam to Noah, and then from Noah to the end of the millennium would be no more than 80 billion people; then adding another 20 billion to be generous; Dr Morris estimated that we would have a grand total of 100 billion people who have ever lived.
Knowing that Jesus said that "narrow is the way that leads to life and few there are who find it" (Matt 7:14), Dr Morris made the assumption that only 1/5th of our 100 billion are saved, meaning that the New Jerusalem would need to house 20 billion people.
On that basis, if everyone inside the city has a mansion, ("In my house are many mansions"  – John 14:2) fitted out just how you would like, with the floor space of 75 acres, ceiling area being 75 acres, each wall area being 75 acres… if we all had that much room there would still be ¾ of the City left for parks, water fountains etc!
This is only a proposition but serves to illustrate just how big this city will be!
From verse 17 It looks like the wall is 200ft thick diamond!
NB: all that we are looking at is the peripherals, the building materials. When you visit someone's house you are more interested in the internals than the walls and foundations! But God only gives us this much for now.
Rev 21:18
And the building of the wall of it was of jasper: and the city was pure gold, like unto clear glass.
Tutenkhamen's gold is estimated to be of more value than all of the rest of the world's gold reserves put together because it is so pure that you can see light through it. That is nothing compared to this!
Rev 21:19
And the foundations of the wall of the city were garnished with all manner of precious stones.
The first foundation was jasper; – pure diamond clear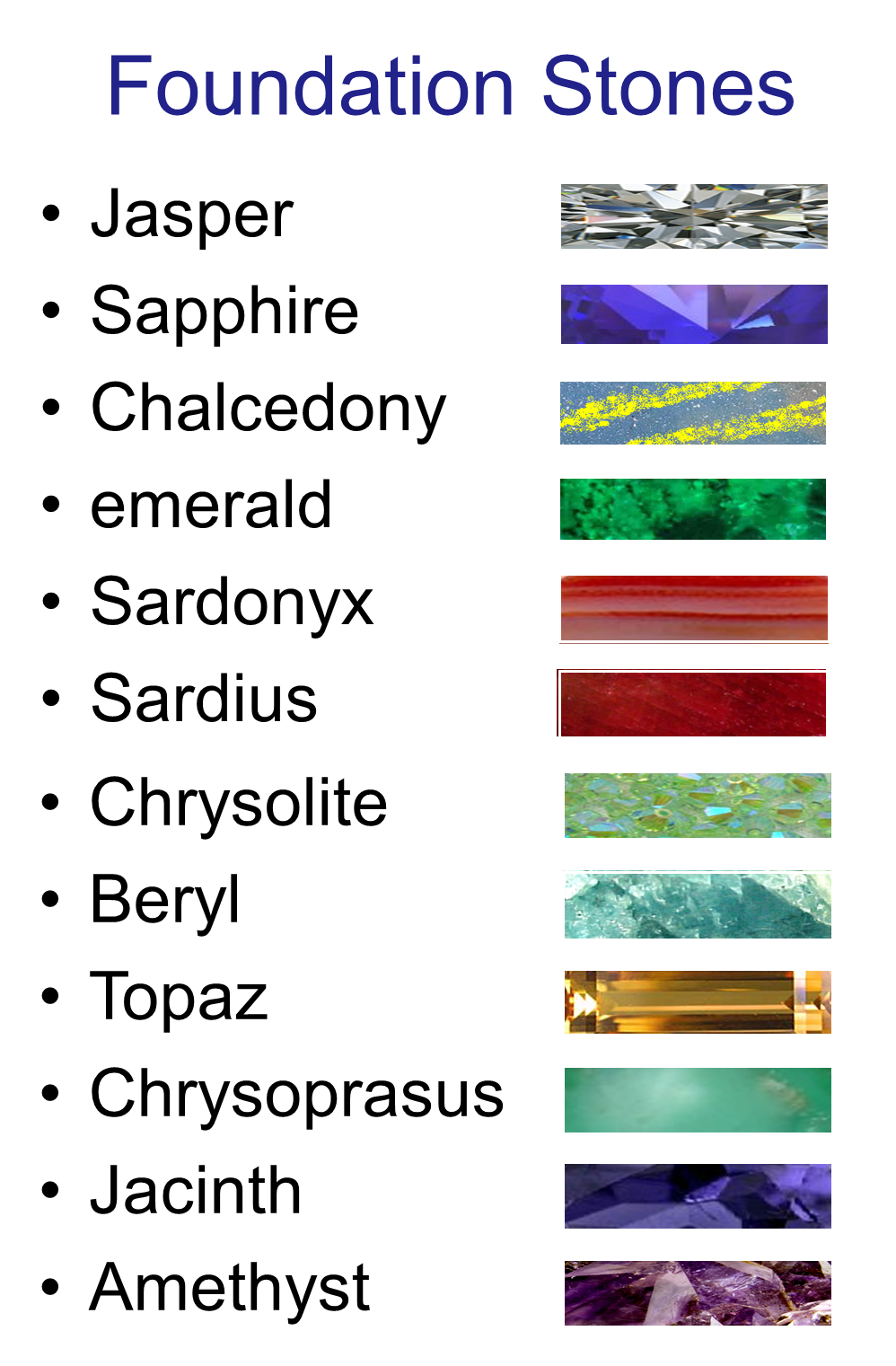 the second, sapphire; – Blue
the third, a chalcedony; – Sky blue & yellow streaks
the fourth, an emerald; – Green
Rev 21:20
The fifth, sardonyx; – White with red veins
the sixth, sardius;  – Blood red ruby
the seventh, chrysolite;  – Blue green & gold
the eighth, beryl;  – Yellow Green to Turquoise
the ninth, a topaz;  – Golden
the tenth, a chrysoprasus; Blue, Green & Yellow
the eleventh, a jacinth; – Violet & Blue
the twelfth, an amethyst. – Purple
These foundations stones may be in layers, one on top of another; or maybe in twelve sections going around the walls with three colours/stones on each side – if the latter is the case each stone would cover an area approximately 500 miles wide!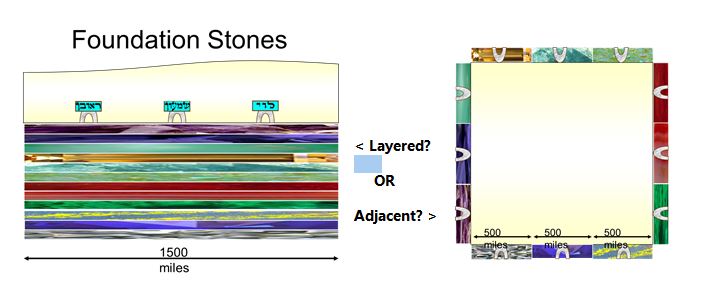 Rev 21:21
And the twelve gates were twelve pearls; every several gate was of one pearl [some Oyster!]: and the street of the city was pure gold, as it were transparent glass.
Maybe the gates are made from a pearl to remind us through eternity of Matt 13:45-46 where Jesus tells of the man who sold all that he had to purchase a pearl of great price.
Jesus is the man, the Church is the pearl. Pearls are not kosher to the Jews, they are a Gentile item. Pearls are formed by irritation and are taken from their place in the sea to become an item of adornment. The Church has grown through trial and tribulations; God has used these things to test us and refine us. We too have been taken from the sea (an idiom in scripture for the Gentile world), and have become an item of adornment for the King of Kings who gave up everything He had to purchase us with His precious blood.
Please Note: Peter is not standing on any of the gates contrary to popular myth!
Even the streets in this city are made of such pure gold that it is transparent; and this is just the stuff you walk on!
Rev 21:22-23
22  And I saw no temple therein: for the Lord God Almighty and the Lamb are the temple of it.
23  And the city had no need of the sun, neither of the moon, to shine in it: for the glory of God did lighten it, and the Lamb is the light thereof.
In the wilderness they had the tabernacle that at times was filled with God's presence. The same was true of the Solomon's temple. Here however God's presence will abide for eternity.
J Vernon McGee comments:
God lights the new creation directly by His presence. After the entrance of sin into the old creation, God withdrew His presence, and "darkness covered the face of the deep" (see Gen 1:2). Then God made use of the physical lights in His universe. He put them up like we put up street lights or lights in our homes. However, in the new creation sin is removed, and He again becomes the source of light. Today the Lord Jesus Christ is the Light of the World in a spiritual sense: "Then spake Jesus again unto them, saying, I am the light of the world: he that followeth me shall not walk in darkness, but shall have the light of life" (John 8:12).
In the new creation He is the direct physical as well as the spiritual light. In the tabernacle there was the golden lampstand, which is one of the finest pictures of Christ. In the New Jerusalem He is the golden lampstand. The nations of the world will enter the Holy City as the priests entered the Holy Place in the tabernacle for the purpose of worship. The nations of the earth, as well as Israel, will come to the New Jerusalem as the high priest of old entered the Holy of Holies. Instead of the blood being brought, the Lamb is there in person. What a picture we have here!  –  J Vernon McGee
In Matthew 13:43 we read: "Then shall the righteous shine forth as the sun in the kingdom of their Father. Who hath ears to hear, let him hear." What will this look like to have 20 billion of us shining inside the city and the light of God and the Lamb; with walls of effectively pure diamond and streets of transparent gold! No wonder we won't need the light of the sun.
…the Lamb is the light thereof.
It is interesting to muse over the fact that there will be no sun, because Jesus will be the light of this city.
If we were to ask the question: 'What is darkness?' how would you answer? Let's put it another way: 'How do you measure darkness?' If you think long and hard you will come to the realisation that darkness does not actually exist in and of itself; darkness is simply the absence of light. We can measure light, but we can only 'measure' darkness by the amount (or lack) of light present. In Job 38 God gives Job a science quiz and, among other things, asks him "Where is the way where light dwelleth? and as for darkness, where is the place thereof"  (Job 38:19). Light moves, darkness is fixed.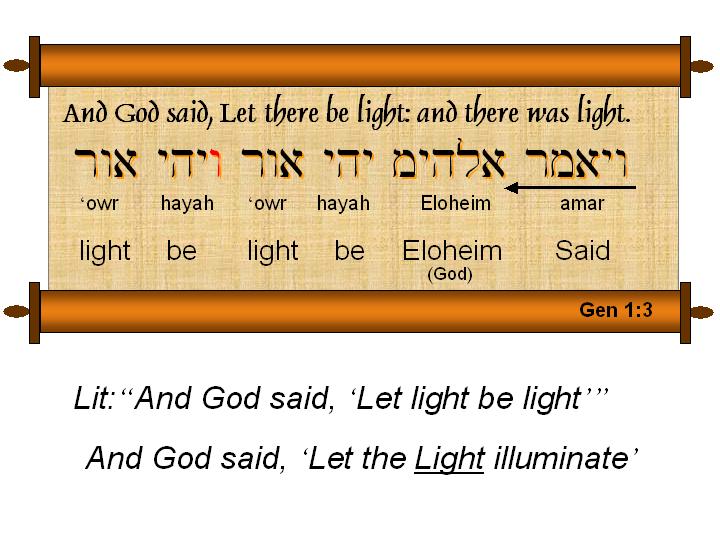 The first time we encounter light in the Bible is in Genesis chapter 1 verse 3. The common understanding of this verse is that God says: 'Let there be light', at which point light appears; and that is certainly what happens. However, if we look at the Hebrew (which reads from right to left), we find that what God actually says is: "Be light, be light" or we could say: "Let light be light". Another way we could render this would be: "Let the Light illuminate", and now we begin to see something incredible! Who is The Light? Answer: Jesus Christ!
In 1st John we are told that "God is light, and in him is no darkness at all"( 1 John 1:5). This is also explained in the opening of John's gospel:  "In the beginning was the Word, and the Word was with God, and the Word was God. The same was in the beginning with God. All things were made by him; and without him was not any thing made that was made. In him was life; and the life was the light of men. And the light shineth in darkness; and the darkness comprehended it not. There was a man sent from God, whose name was John. The same came for a witness, to bear witness of the Light, that all men through him [i.e. the Light] might believe. He was not that Light, but was sent to bear witness of that Light. That was the true Light, which lighteth every man that cometh into the world." (John 1:1-9)
Thus, from these verses we see that God, in the person of Jesus, is the Light, and the creator of all things. He Himself said: I am the light of the world: he that followeth me shall not walk in darkness, but shall have the light of life. (John 8:12). Was this just a metaphor? Apparently not.
Another verse that sheds some light on this subject (pun intended!) is 2 Corinthians 4:6: "For God, who commanded the light to shine out of darkness, hath shined in our hearts, to give the light of the knowledge of the glory of God in the face of Jesus Christ". Here Paul is referring to Genesis 1:3, but notice what we are told: God commanded the light to shine. For God to command the light to shine, the light had to be in existence prior to this point; in other words it was not created but was pre-existent!
This would seem to be confirmed in Isaiah 45:"I form the light, and create darkness" (Isaiah 45:7). The Hebrew word for 'form' is Yatsar  and it means to 'fashion, form, frame, make through the squeezing into shape'. In other words, it is working with something that already exists. However, in contrast to this, 'create' (darkness), is the Hebrew word bara, meaning to 'create out of nothing'. God does indeed create darkness (out of nothing) simply because He is Light. The fact that He is light makes it possible for darkness to exist. The same idea is carried on in the second part of the verse where we read: "I make peace, and create evil: I the LORD do all these things". Many people have struggled with this verse because they think it makes God the author of evil; until, of course, you realise that, just as darkness is the absence of light, so evil is the absence of God. Evil exists because of the absence of God in the hearts of those who reject God. God does not 'form' (yatser) evil from something that already existed, He 'causes' it to exist (bara) out of nothing – i.e. it hasn't always been there. It only became a possibility with the existence of beings (angels and humans) who have the power of choice – choice that allows them to reject God.
One final though before we move on: If God commanded Jesus, who is Light, to 'illuminate' the world that now is and to be the Light in the new heavens and earth, and we know from Colossians 1:16-17 that Jesus created all things that exist, then, we could legitimately say that 'Light created all things'.
Why is that significant? Well, simply because of the following.
Particle physicists know that each particle (the smallest physical object – smaller than an atom) has an anti-particle. If a particle and anti-particle combine they will annihilate each other and emit a photon (the smallest unit of light). What's provocative is that it's believed that this reaction could be reversible. This would mean that, from a photon (a single unit of light), it would be possible to 'create' a particle and its corresponding anti-particle. In other words, some particle physicists now believe that all you would need to create matter, is light! – and what has the Bible said for thousands of years? 'In the beginning God – the One who is Light – created all things!!
Rev 21:24
And the nations of them which are saved shall walk in the light of it: and the kings of the earth do bring their glory and honour into it.
Who are the people that comprise these nations?
Well, from our study we know of at least three groups: 1) Israel who will have been restored and will have lived under Jesus rule during the millennium; now they will come up to the New Jerusalem to worship. 2) The tribulation saints – we have already seen that they are not part of the bride, so therefore will not live inside the city. 3) Any that are born during the millennium that don't follow Satan in his last stand. Ultimately, these nations will comprise of all who were found written in the Lamb's book of life but were not part of the bride.
Rev 21:25-26
25 And the gates of it shall not be shut at all by day: for there shall be no night there.
26 And they shall bring the glory and honour of the nations into it.
Evidently, although the city will be the home of the bride, there will be an abundance of traffic coming in and out continually; hence the gates will never be shut. lowest price generic viagra
Joe Focht raises an interesting question here: If the gates are never to be shut, why is an angel posted on each of the twelve gates? (See verse 12).
One possible explanation is that they will be information angels! With a city that big you might need help finding your way home! Also you may want to visit Oswald Chambers or Whitfield or Moses or Abraham. These angels may be able to direct you to the 'blue quadrant' to the mansion of Charles Spurgeon so you can have some 'morning & evening' devotions!
Maybe we will get to visit friends and family or those we have brought to Christ; and together we will be able to praise God for His Faithfulness, Grace and Mercy.
Rev 21:27
 And there shall in no wise enter into it any thing that defileth, neither whatsoever worketh abomination, or maketh a lie: but they which are written in the Lamb's book of life.
How often we have to be on our guard as Christians. Paul tells us in Romans: "Make not provision for the flesh to fulfil the lusts thereof" (Rom 13:14) Jesus said: "Behold, I send you forth as sheep in the midst of wolves: be ye therefore wise as serpents, and harmless as doves. But beware of men………". (Matt 10:16-17). Peter said: "Be sober, be vigilant; because your adversary the devil, as a roaring lion, walketh about, seeking whom he may devour" (1 Peter 5:8)
How wonderful it will be to have God's promise that nothing that defiles, neither anything that causes abominations or deceit will be able to enter into our eternal home.
For those of you who have been camping in tents you'll know that when it rains really hard, no matter what you do to try and prevent it, water still finds its way into the tent – and usually makes your pillow wet! What a contrast when you are back home and safe within your house and double glazed windows. It can rain as hard as it wants now, but nothing is getting through and you can relax knowing that you'll have a warm bed and pillow tonight!
It's a poor example, I know, but what peace, relief and comfort we will experience when we are safe within the walls of the New Jerusalem knowing that no sin, no temptation, no iniquity or deceitful thing can touch us any longer.
To be continued…
Every blessing,
Pastor Barry