In chapters 2 & 3 of Revelation we find seven letters that Jesus Himself writes to seven churches that existed in Asia Minor in the first century. As we noted last week, these letters were intended to have at least four levels of meaning and application.
They were letters to seven churches that existed at that time, and Jesus was addressing specific concerns in those churches.
They are also letters for each and every church, for the issues addressed in each church are experienced by all churches, and the instruction Jesus gives all do well to take heed of.
Thirdly, the letters are written to you personally! If you have ears that is! This is worth thinking about for a moment… it means that here are seven letters written by Jesus to you – and to all believers. This means there is a very personal application to the instructions Jesus gives here.
Finally, each successive letter lays out the prophetic history of the Church from the first century to the time of the Rapture, and culminating in the final church age that will give way to a one world church – the subject of Revelation 17 & 18.
As an aside, the Church is mentioned at least 19 times in chapters 1-5, but then conspicuously not mentioned at all from chapter 6 to 20 – the chapters that detail the events of the Tribulation. This begs the question, where is the church during the time of Tribulation?  It is certainly not in the world, for in chapter 7 we find 144,000 Jews are sealed to protect them from the coming judgments – but the Church is not mentioned. The only explanation for this is that the church is no longer on earth. We will explore this more in our study of chapter 4 & 5.
Suffice to say, we should therefore pay close attention to chapters 2 & 3, as these should be of particular interest, being the most relevant, practical and applicable chapters in Revelation to the Church on earth in these days.
As we begin to look at the 7 letters, we note that each adopts the same basic structure and outline.
There is some feature of the glorified Christ (whom John saw in chapter 1) that is emphasized in addressing each church. A particular characteristic is emphasized that is fitting to the particular church.
After the introduction Jesus begins each letter by stating: "I know thy works…..,"   He first gives a word of commendation/encouragement, and then He gives a word of condemnation/rebuke. There are, however some exceptions that should be noted. There is no word of rebuke to Smyrna or Philadelphia. Smyrna was the martyr church that was faithful unto death, and Philadelphia was the faithful 'missionary' church, characterized by brotherly love. Also there is nothing good said about the church at Sardis (the dead church) or Laodicea (the apostate church).
Each letter ends with a call to understand and a promise to the overcomers. "He that hath an ear, let him hear what the Spirit saith." (NB: This phrase is only used in scripture in connection with the kingdom of God – the Church. This is because it is only the Holy Spirit filled believer that is able to understand the things of God    – (see 1 Cor 2:9-16).
There were many other churches in the Roman Empire, certainly some of them were more well know. The church at Jerusalem, the church at Antioch etc. but these seven were chosen for specific reasons as we have mentioned.
In addition, another reason may be due to the fact that they were located in the most important area of the Roman Empire during the first, second, and even third centuries. The area was important because it was where East and West met.
As far back as 2000 B.C. there was a civilization along the coast of Asia Minor (the modern west coast of Turkey). It was a beautiful area and some of the richest land was there; it also used to be the heart of the great Hittite nation (mentioned in the Old Testament). In fact, Ephesus was founded about 2000 B.C. by the Hittites, as was Smyrna (modern Izmir). Pergamum was founded later, and then Thyatira and Sardis even later still. During the time of Alexander the Great these cities rose to prominence.
Chapter 2: 1-7 The Letter to Ephesus 'the loveless church' 32A.D – 100 A.D.
Ephesus was the capital of Asia Minor and had a population of about two hundred thousand people. It was both the religious and commercial center of that entire area which influenced both East and West—Asia and Europe.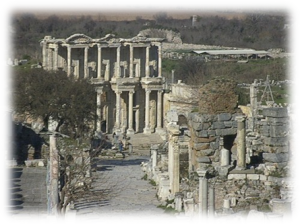 It was the gateway from Rome to Asia (Turkey) and the east. It was a major seaport and trade route. The road to the harbor was wide and lined with impressive marble columns with shops and trading stalls. It was a place of resorts, and the Roman emperors apparently came there for a break. It was a city constructed almost entirely of white marble, a beautiful place.
As you moved up from the harbor you passed a huge outdoor theater that could seat about twenty thousand people.
It was at Ephesus that the great temple of Diana was found – this was one of the 7 wonders of the ancient world. It was the largest Greek temple ever constructed. In it were over one hundred external columns about fifty-six feet in height, of which thirty-six were hand carved. The doors were of cypress wood; columns and walls were of Parian marble; the staircase was apparently carved out of one vine from Cyprus. Her temple was four times larger than the Parthenon at Athens, but was finally destroyed by the Goths in A.D. 256. The temple served as the bank of Asia and was the depository of vast sums of money. Ephesus was also well known for art with galleries displaying the masterpieces of ancient artists such as Praxiteles, Phidias, Scopas, and Polycletus. 'Apelles', a famous painting of Alexander the Great was also there. Diana was supposed to be the daughter of Zeus and sister of Apollo according to Greek mythology. But she is the same goddess worshipped by other cultures by different names, 'Ashtoreth' being one.
After the ministry of Paul and John, there was a tremendous Christian population in that area. It seems that Paul had his greatest ministry in the city of Ephesus, and Luke writes, "… all they which dwelt in Asia heard the word of the Lord Jesus, both Jews and Greeks" (Acts 19:10).
The impact of the gospel was great in that area, four great pillars or towers were placed at the entrance to the harbor, and upon them was the emblem of the cross. One monument was dedicated to Matthew, one to Mark, one to Luke, and one to John. Only one pillar stands there today, but it still bears the symbol of the cross. And there are other evidences of the tremendous impact of the gospel where pagan temples were later turned into churches.
Paul came to Ephesus on his third missionary journey to begin a ministry. For two years the Word of God went out from the school of Tyrannus. Of this experience Paul wrote, "For a great door and effectual is opened unto me, and there are many adversaries" (1 Cor. 16:9).
Later John, the "apostle of love" and the "son of thunder," came to Ephesus as a pastor. He was exiled to Patmos, then after about ten years of being exiled and imprisoned, he returned to Ephesus. The Basilica of Saint John, which is located on the highest point there, is built over the traditional burial spot of the apostle John.
Rev 2:1
Unto the angel of the church of Ephesus write; These things says he that holds the seven stars in his right hand, who walks in the midst of the seven golden candlesticks lampstands;
"Unto the Pastor of the Church…"
Jesus has given pastors to serve the church Eph 4:11
They are not to be 'Lords' katakurieuo'  lit. i.e. not to 'exercise dominion' – 1 Peter 5:3
But they are to be 'poimen' lit. shepherds that tend & feed His sheep – John 21:15-17
"Christ holds the seven messengers of these churches in His right hand, a place of sovereign protection as well as divine authority over them" – John Walvoord
We should also note that Jesus is in the midst of the church. How different would we be, and how differently would we 'do church' if we really realised that He is walking in the midst of the church today? It's His church not ours, He paid for it and has entrusted it to us. Are we being faithful with what He's given us? Are we doing all things without murmurings and disputing? (Phil 2:14) Are we bearing one another's burdens? (Gal 6:2) – When was the last time you did this? Are we loving each other? (1 John 4:20)
He has forgiven us and told us to forgive each other (no matter what has been done). He has loved us and told us to love each other in the same way.
Next time you say something unkind about another Christian, just consider that Jesus could be
walking by just at that moment. …who walketh in the midst of the seven golden lampstands
Rev 2:2
I know thy works… This is both good and bad. Jesus sees what we've been doing in secret and will reward us openly (Matt 6:3-4). But Jesus also sees the things that we have been doing in secret – you know the things that you thought no-one else knew about, the things muttered under your breath, the thoughts of envy, or anger, or lust – He knows.
To the Ephesian Christians Jesus says that  He has been watching and knows what they have been doing for Him …and thy labour, – the Greek meaning of this word means 'labour to the point of exhaustion'. Jesus also notes their patience …and thy patience, – this literally means 'endurance', a heart to persevere. Without pressure we endure just great! But when something goes wrong, how do we acquit ourselves!
These were great Christians who endured under great persecution. Jesus commended them for this and adds …and how you cannot bear them which are evil:
How much evil are we prepared to bear? How often do we tolerate evil for the sake of 'peace' in our county, community or family? When was the last time we stood up for the truth?
Calvary Pastor Gail Erwin, talking about church discipline said that we should restore the sinner, remove the person that causes divisions and reconcile with the person we have personal problems with. But he then added that sadly many churches have it backward. We restore the person that causes division, we remove the sinner, and we never reconcile with the person we have problems with!
Pastor Joe Focht said: 'A healthy body heals itself – it has an immune system. The church at Ephesus was healthy enough to put out those who would infect. When a person is infecting other people it's time to put them out.'
…….and thou hast tried them which say they are apostles, and are not, and hast found them liars:
This was a real feather in their cap. Paul would have been delighted. In Acts 20:28-31 in his final talk with the Elders of the Ephesian church, he said the following:
"Take heed therefore unto yourselves, and to all the flock, over the which the Holy Ghost hath made you overseers, to feed the church of God, which he hath purchased with his own blood. For I know this, that after my departing shall grievous wolves enter in among you, not sparing the flock. Also of your own selves shall men arise, speaking perverse things, to draw away disciples after them. Therefore watch, and remember, that by the space of three years I ceased not to warn every one night and day with tears."
Paul's warnings had paid off. They had been vigilant and held fast to the Word that had been taught.
Sometimes we can be criticized for warning about false teachers and the dodgy doctrine that flows from many pulpits, because apparently 'it's not positive' or 'encouraging'. Let me ask, if a Doctor knows that something you are taking could kill you, what kind of a Doctor would he be if he didn't tell you because he might upset you?
Paul was with the Ephesian Christians for three years and warned them all, night and day, with tears. Do you think you are above being deceived? Deception is subtle – that's why it works!
99.95% of rat poison is nutritious, that why rat's like it. But the 0.05% IS ENOUGH TO KILL THEM!
Jesus said don't be deceived – particularly in these last days when scripture tells us that there will be a great falling away! "Now the Spirit speaketh expressly, that in the latter times some shall depart from the faith, giving heed to seducing spirits, and doctrines of devils; Speaking lies in hypocrisy; having their conscience seared with a hot iron;" (1 Tim 4:1-2)
The only way safeguard against deception is to know the Word of God, being so familiar with it that when counterfeits come along, you can spot them a mile off. "Take heed unto thyself, and unto the doctrine; continue in them: for in doing this you shall both save yourself, and those that hear you."  (1 Tim 4:16)
Rev 2:3
And have borne, and have patience, and for my name's sake have laboured, and have not fainted.
Summery of the Ephesian's good points that we can learn from:
Jesus likes:
Workers – those who are active as Christians
Labourers – those who carry on to the point of exhaustion
Those who endure under pressure, of whatever kind
Those who can't bear with evil/infectious sinners who are destructive in the body of Christ
Those who have enough discernment to test false teachers
Those who have borne and not fainted
Those who do all of this for His name sake
Rev 2:4
Nevertheless I have somewhat against thee, because thou hast left thy first love.
When Jesus says 'nevertheless' you can almost feel an awkward silence where you could hear a pin drop.
This church had been so busy in the service of the King that they had forgotten about the King; and it is Jesus Himself that has to bring it to their attention.
It is a sad fact that almost 2000 years after the Ephesian Christians heard this report of themselves, Christians today are still busy 'doing things' for God when all God really wants is their love.
Oswald Chambers said: 'We have to get rid of this notion—"Am I of any use?" and make up our minds that we are not, and we may be near the truth. It is never a question of being of use, but of being of value to God Himself. When we are abandoned to God, He works through us all the time.' (My Utmost For His Highest)
In Luke 10:38-42 we read: "Now it came to pass, as they went, that he entered into a certain village: and a certain woman named Martha received him into her house. And she had a sister called Mary, which also sat at Jesus' feet, and heard his word. But Martha was cumbered about much serving, and came to him, and said, Lord, dost thou not care that my sister hath left me to serve alone? bid her therefore that she help me. And Jesus answered and said unto her, Martha, Martha, thou art careful and troubled about many things: But one thing is needful: and Mary hath chosen that good part, which shall not be taken away from her."
Jesus just wants us to sit at His feet and hear His word. Too many of us are like Martha, so into our serving that we haven't got time for our Saviour. We need to realize that God doesn't need us to accomplish His plans. If God does use us, praise Him for the opportunity, and give willingly, but we must never let it detract us from our no. #1 priority – our relationship with Him.
The story is told in New England, America, about two girls who worked in a cotton mill. They were friends, but when one of them quit working there, they lost touch with each other. Finally, they met one day on the street. The working girl asked her friend,  "Are you still working?" "No," she said, "I got married!" When that girl worked in the mill, she watched the clock, and every evening when five o'clock came, she had her coat on and was on her way out. It was hard work, and she didn't like it. Now she is married and she says that she has quit working.
Well, if you could look at her life, you wouldn't think she had quit working. She gets up earlier than ever before to prepare breakfast for her husband and to pack his lunch. Then she throws her arms around him as she tells him good-bye. All day long she is busy cleaning house and washing clothes and caring for two little brats who are two little angels to her because they are hers. Then when five o'clock comes, she doesn't put on her coat and leave; she starts cooking dinner. About six o'clock here comes her husband. She is right there at the door to throw her arms around him and tell him how much she has missed him that day. When a man comes home in the evening, opens the door, and hears a voice from upstairs or from the rear of the house calling, "Is that you?", he knows the honeymoon is over. But this girl is in love. Her husband's workday is over, but hers has only just gotten started. She serves dinner to her husband and feeds the children. Then she washes the dishes, puts the children to bed—and that's not easy—and works around getting things ready for her husband for the next day. I tell you, she is weary when she finally gets into bed—but she's not working anymore, she says! Why? Because she is in love. That's the difference.
My friend, when your home life and your church, life become a burden, there is something wrong with your relationship with Christ. When you get that straightened out, other things will straighten out also. This is the reason the Lord Jesus said to the Ephesian believers, "You are getting away from your first love, your best love."    (J Vernon McGee)
The love that Jesus says that the Ephesian Christians had left was the 'love of espousal'.
This is the love that a newly married husband and wife would share.
When two people fall in love the effects are amazing! Everything else in the world is unimportant; it's almost as if no one else exists. When you're apart you count the hours 'till you're together again. She wears the clothes he likes; he stars washing and using deodorant. Love will cause you to wait until the person is all the way in the car before you close the door! Love will cause you to eat in a place with a menu that you don't have to drive by! This kind of love seeks to excel and knows no limits. This is what the love of espousal is like.
Have you seen couples who are in love? They are often all giggly together, wear matching jumpers, swap key rings or whatever, all they talk about is each other.
But there was a time in our Christian experience when we used to be like. There was an excitement and passion in our relationship with Jesus – and other people couldn't help noticing. But now we've matured, we've become 'sensitive' to others. We don't want to offend anyone or jam it down people's throats. I suppose that we think we might be able to boar people into the kingdom instead! But that is not how it should be; something's missing – Our first love.
How different would this coming week be of you removed Jesus from your life? How much more time would you have if you didn't pray this week? Or read the Bible?
If the answer is that your week would hardly be any different, then it's time to stop and remember how it used to be.
Notice what Jesus says: they have not lost it, they've left it – it is a willful act. Other things have got in the way. Jesus is no longer no#1.
Don't let the situation continue. Why not stop even now, and let the Holy Spirit rekindle the fire in our heart. He is only ever a prayer away, and He has never stopped loving you!
Rev 2:5
Remember (keep remembering) therefore from whence thou art fallen, and repent, and do the first works; or else I will come unto thee quickly, and will remove thy candlestick out of his place, except thou repent.
"Or else I will come unto thee quickly, and will remove the candlestick out of his place, except thou repent." Christ says that He will remove your lampstand. Oh, how many churches in our day have been practically closed. Once the crowds came, but they don't come anymore because the Word of God is no longer being taught. My friend, Christ is still watching the lamps, and He doesn't mind trimming the wicks or even using the snuffer when they refuse to give light.  (J.V. McGee)
Rev 2:6
But this thou hast, that thou hate the deeds of the Nicolaitans, which I also hate.
Nicolaitans is a compound word. Nikao means "to conquer" and laos means "the people."
Nike – as in the trainers – to be victorious We get our word 'laity' from the same root – laos.
These were a group of people with roots in pagan religions that were trying to create a division between the 'clergy' and the 'laity'. They act as the people's representatives before God, thus people could afford to be a little less concerned about their 'religion', because they didn't have to answer directly to God anymore.
Jesus hates this! Imagine what it would be like if you found that somebody was trying to come between you and your husband/wife. Or if you discovered that another person was coming between you and your children. How would this make you feel?
The Ephesians hated it and so did Jesus.
NB: In this letter we see the deeds of the Nicolaitans, by the time we reach Pergamos it has become the doctrine of the Nicolaitas.
Rev 2:7
He that hath an ear, let him hear what the Spirit saith unto the churches; To him that overcometh will I give to eat of the tree of life, which is in the midst of the paradise of God.
God wants to give His best to those who love Him.
We will enjoy face-to-face fellowship with God as Adam & Eve did.
Chapter 2: 8-11 The Letter to Smyrna 'the persecuted church' 100 A.D. – 313 A.D.
'Smyrna' means 'bitterness' and implies suffering – it comes from the same root as myrrh.
Smyrna is about 35 miles north of Ephesus, on the coast of the Aegean Sea. Today, with a population of over 200,000, it is now known as Ismir. The city goes back to about 2000 BC when a Hittite city was built around the slope of Mount Pagos. Later Alexander rebuilt it into the beautiful city that it became. About 200 BC the people became allied to the Roman cause and it was where the Roman republic began to form.
Romans called the city "The Beauty of Asia" and it was where a statue to the Roman goddess was located and eventually became a place of Emperor/Cesar worship. This was to be the trigger that started the persecution of the church. In 26AD they were awarded the honour (ahead of other cities) to have the temple of Emperor Tiberius built there. (This was a bit like countries today bid to hold the Olympic games).
As we have mentioned, Smyrna was on the slopes of Mount Pagos, on top of which was an acropolis. Smyrna was called the crown city (see verse 10) because the acropolis was encircled with flowers, a hedge, and myrtle trees which from a distance looked like a crown. The city had buildings and many beautiful temples such as the temple of Zeus, the temple of Cybele (Diana), the temple of Aphrodite, the temple of Apollo, and the temple of Asclepius. Smyrna also had a theater and an 'odeum' which is a music center—it was regarded as the home of music. In addition to this, there was a famous stadium, and it was at that stadium that Polycarp, bishop of Smyrna and student of the apostle John, was martyred by being burnt alive in a.d. 155.
The people of Smyrna had for some time worshipped dead emperors, and it wasn't long before they stated to worship the living emperors as well. Emperor worship became enforced with each citizen being required to obtain a certificate as proof that they had burned incense on the alter to Cesar. Needless to say, the Christians refused.
The Jews (who according to Roman rule were exempt from emperor worship), seeing this as a way of getting rid of their 'enemies' had stirred up the people against the Christians, and so it was that they went searching for Polycarp.
Polycarp, disciple of John, had been the pastor of the church for many years. His friends had moved him to a farm, but it became known, so they moved him to another farm, but two boys were captured who knew where they had taken him and were forced to tell the Roman soldiers the location. When the Roman soldiers arrived at the farm where Polycarp was, they found him asleep. However God had revealed to him in a vision that they were coming and he had already prepared them a meal. He requested that while they ate, he could pray for an hour. They were so overwhelmed that they agreed to his terms. He prayed for two hours for everyone he had know in his life, no doubt praying also for the soldiers who would have heard everything. Eventually they took him to the Roman Proconsul, who offered Polycarp the chance to recant and worship Cesar, but he said: "These 86 years I have followed Jesus and he has done me no wrong, I cannot deny Him now" They told him that if he didn't worship Cesar he would be thrown to the beasts. However, by then it was too late because the 'games' had finished for the day; so instead they made a bonfire with Polycarp in the middle. When they lit it the flames, they just seemed to go up avoiding him, so in desperation a Roman soldier ran in and stabbed him with a sword. The blood came out and apparently put out the fire! – but Polycarp died.
Rather than crushing Christianity, the news of Polycarp's death motivated the Christians and gave them renewed determination and courage. In order to try and stop the spread of this 'new religion' something had to be done. History records that shortly after the death of Polycarp, 15,000 believers were slaughtered in one day; and a few months later another 800 were killed.
Tetulien (an early church leader who was a lawyer converted from paganism) famously said that: "The blood of the martyrs is the seed of the church."
And Tertulien records that the church became the scapegoat if anything went wrong.
"If the Tiber river overflows it's banks, or if the Nile has remained in it's bed, if the sky has become still, or if the earth in commotion, if death has made it's devastations, or famine it's afflictions, the cry of Rome is always: this is the fault of the Christians!"
The same cry is being heard in the world today. It's the Christians fault! We are nowadays often being presented as intolerant and a fundamentalist minority. One confirmation of this a few years ago was at the American Convention for World Peace, where it was stated that: "The greatest roadblock to world peace is the fundamental Christians" –  So as Pastor Joe Focht said: "I wish we'd all just disappear and they can have it!" That day is not too far away!
As mentioned, the name Smyrna comes from the same root as Myrrh – which gives off a sweet smell when it is crushed, and it is used for embalming. What a sweet smell it must have been for the Lord as His servants chose Him even at the cost of their lives. I've heard it said that when you crush a lemon you get lemon juice; an apple, apple juice – so when you crush a Christian you should get Christ.
Rev 2:8
And unto the angel of the church in Smyrna write; These things saith the first and the last, which was dead, and is alive;
"Who became dead, and lived" has a real message for martyrs. Christ's experience with death identified Him with the millions who were martyred during this period. (According to Fox's Book of Martyrs, five million believers died for Christ during this period.) Christ was triumphant over death and can save to the uttermost those who are enduring persecution and martyrdom.
NB: There have been more Christians martyred in the last one hundred years than in the whole history of the church to that point. Those of us who are not being persecuted really should 'make hay while the sun shines', it may not last – and we should also pray for our brothers and sisters who are suffering around the world.
Rev 2:9
I know thy works…  – labouring to the point of exhaustion …and tribulation,.
I know……….. "When answers aren't enough, there is Jesus, He is more than just an answer to your prayers" (Scott Wesley Brown – Christian Recording Artist)
Pastor Joe Focht recalls a situation at his church (Calvary Chapel Philadelphia) of a Christian lady whose husband who died of cancer. Before he died her husband, although initially wanting nothing to do with the church, became a Christian; not through anyone preaching but simply by seeing the way the church rallied round and helped him an his wife – just Christian love in action. 1-year later another lady in the church lost her husband in the same way, Joe was there to try and console, but was lost for words – in walked the lady who had lost her husband the year before and simply put her arms around the other lady and said "I know".
Jesus doesn't promise to deliver us from trials and temptations, but in the midst of them He says 'I know'. He knows the pain we experience. See John 11:35 "Jesus wept"
He understands the pain of loss. John 17:33 – "In the world you will have tribulation; but be of good cheer, I have overcome the world"
 …and poverty, (but thou art rich)
Their treasure was in heaven, where it will not decay but awaits them.
There are two words for poverty in the Greek. The one that is used here denotes abject poverty, they had lost everything on account of their faith in Jesus. They had been forced from their jobs, their homes repossessed – all because they would not bow the knee to Cesar.
Maybe they didn't have enough faith(?)! So many of today's TV evangelists would claim. In credibly TV evangelist Linda Roberts boldly stated:
"we can all be wealthy and prosperous! Jesus took all our poverty and sickness and buried them in hell – that's why He had to go to hell for 3 days before rising – to dump all the rubbish! If we are sick or not prospering financially, it is because we have sinned and dragged back up from hell what Jesus intended us to get rid of!'
This is an abominable heresy, and yet, sadly many Christians watch this stuff and are deceived into thinking it's true.
"If anyone teaches otherwise and does not consent to wholesome words, even the words of our Lord Jesus Christ, and to the doctrine which accords with godliness, he is proud, knowing nothing, but is obsessed with disputes and arguments over words, from which come envy, strife, reviling, evil suspicions, useless wranglings of men of corrupt minds and destitute of the truth, who suppose that godliness is a means of gain. From such withdraw yourself."  (1 Tim 6:3-5)
The Christians in Smyrna had lost everything because of their love for Jesus. We should never forget the people who have died for the faith; they are our brothers and sisters.
The question has to be asked again: Do we really love Him? Is He first in our lives? Above everything we have and own? Above our own plans and dreams? Are we prepared to give up absolutely everything for Him? It might not be too long before you really have to face that question.
Again, He says: "I know your works…" To the Church at Smyrna it was a great comfort, but do those words make us feel uncomfortable? Should we be doing more? Are we rich or poor – and in whose eyes?
There must have been great love in this church, they could have given in, but they stuck together.
…and I know the blasphemy of them which say they are Jews, and are not,
There would seem to be two options as to what this verse means:
1)  'Not everyone is a Jew who is a descendent of Abraham'
Therefore bear fruits worthy of repentance, and do not begin to say to yourselves, 'We have Abraham as our father.' For I say to you that God is able to raise up children to Abraham from these stones. (Luke 3:8)
But it is not that the word of God has taken no effect. For they are not all Israel who are of Israel, nor are they all children because they are the seed of Abraham; but, "In Isaac your seed shall be called."  That is, those who are the children of the flesh, these are not the children of God; but the children of the promise are counted as the seed. (Rom 9:6-9)
The idea here is that in God's eyes, your family history didn't make you a Jew – one of God's chosen. It was for those who believe the promise, by faith, in the One who would come.
At this time there were some Jews boasting that they were 'safe' because they were related to Abraham.
This is a fairly common view, and it may be correct, but I strongly favour the 2nd idea.
2)  The second option is what is known as 'Replacement theology' – yet it also applies to Islam.
The suggestion here is (and we know from the book of Acts) there were those going around saying God had abandoned Israel and that now all of the promises given to Israel would fall on the church (and again, Islam believe the same – that they have now inherited the promises God had originally given to Israel). In the book of Romans Paul meets this head on:
I say then, has God cast away His people? Certainly not! For I also am an Israelite, of the seed of Abraham, of the tribe of Benjamin.  God has not cast away His people whom He foreknew." (Rom 11:1-2)
I say then, have they stumbled that they should fall? Certainly not! But through their fall, to provoke them to jealousy, salvation has come to the Gentiles. Now if their fall is riches for the world, and their failure riches for the Gentiles, how much more their fullness!  Rom 11:11-12
And if some of the branches were broken off, and you, being a wild olive tree, were grafted in among them, and with them became a partaker of the root and fatness of the olive tree, do not boast against the branches. But if you do boast, remember that you do not support the root, but the root supports you.  You will say then, "Branches were broken off that I might be grafted in." Well said. Because of unbelief they were broken off, and you stand by faith. Do not be haughty, but fear. For if God did not spare the natural branches, He may not spare you either. Rom 11:17-22
For I do not desire, brethren, that you should be ignorant of this mystery, lest you should be wise in your own opinion, that blindness in part has happened to Israel until the fullness of the Gentiles has come in. Rom 11:25
See also Acts 15:12-17 where James talks about the future of Israel once all the Church has been gathered in. This was obviously in answer to the question: 'What happens to Israel'?
What is blasphemy? Well, it can be defined as "the act of cursing, slandering, reviling or showing contempt or lack of reverence for God".
The reason that 'replacement theology' in all its guises is blasphemy is because it is a slander against the nature of God because it makes Him to be a liar, suggesting that He has broken the unconditional promises given to Israel. See Deut 30:1-6, 2 Samuel & Jeremiah 31:35-37 to start with! See also Genesis 15 (God's covenant with Abraham)
…but are the synagogue of Satan 
Satan controls the hearts and minds of all those who do not believe.
But avoid foolish and ignorant disputes, knowing that they generate strife. And a servant of the Lord must not quarrel but be gentle to all, able to teach, patient, in humility correcting those who are in opposition, if God perhaps will grant them repentance, so that they may know the truth, and that they may come to their senses and escape the snare of the devil, having been taken captive by him to do his will. (2 Tim 2:23-26)
Rev 2:10
Fear none of those things which thou shalt suffer: behold, the devil shall cast some of you into prison, that ye may be tried;  – These warnings were to be future – prophetic – this was not necessarily going to happen immediately. Also, if the warning was just for the 1st century church, why was only this church warned? Ephesus was just 'down the road' and yet no warning was given to it or the other 'local' churches. This again confirms that the churches are also to be viewed prophetically as ages of the church.
Notice that it is the devil who will cause for them to be cast into prison. This is in accord with Ephesians 6: "we wrestle not against flesh and blood…." Men may be the tools that the devil will use to perform his schemes, but the power behind them comes from the father of lies.
The procedure under Roman government was to put you in prison until the case came before the government officials, who would than decide your fate: usually either banishment (to somewhere like Patmos) or a date with the lions!
…and ye shall have tribulation ten days:
This time period may refer to ten literal days; but there is no historical record that this was the case. It is more likely to refer to ten distinct persecutions under the Roman emperors who preceded Constantine, this we do know from history;
Nero—64–68 (Paul was beheaded under his reign)
Domitian—95–96 (John was exiled during that period)
Trajan—104–117 (Ignatius was burned at the stake)
Marcus Aurelius—161–180 (Polycarp was martyred)
Severus—200–211
Maximinius—235–237
Decius—250–253
Valerian—257–260
Aurelian—270–275
Diocletian—303–313 (the worst emperor of all).
….be thou faithful unto death, and I will give thee a crown of life.
James 1:12 – Blessed is the man that endureth temptation (adversity): for when he is tried, he shall receive the crown of life, which the Lord hath promised to them that love him.
Crowns
Crown of Life James 1:12 / Crown of Incorruption / Perseverance 1 Cor 9:25   / Crown of Rejoicing 1 Thes 2:19 / Crown of Glory 1 Peter 5:4 /  Crown of Righteousness 2 Tim 4:8 /
Rev 2:10
He that hath an ear, let him hear what the Spirit saith unto the churches; He that overcometh shall not be hurt of the second death.
If you are born once you'll die twice. If you are born twice, you'll die once.
Next week we will continue our study in Revelation 2 & 3.
Every blessing,
Pastor Barry.