Over the last few weeks we have looked at 4 of the 7 churches that Jesus sent letters to, as recorded in Revelation 2 & 3 . As we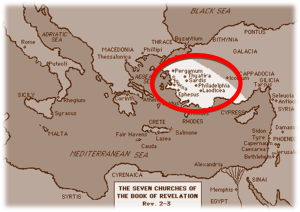 have noted, these letters were to real historical churches that existed in Asia Minor (modern day Turkey). However each letter Jesus sent was also intended for every believer 'who has ears to hear', and to all churches – 'hear what the Spirit says to the churches'. What is also of great significance to us today is the prophetic fulfillment of these letters.
This week we conclude our study of these letters looking at Sardis, Philadelphia & Laodicea  – I hope this encourages you to go deeper into God's Word!
Chapter 3: 1-6 The Letter to Sardis 'the Remnant' 1517 A.D – Tribulation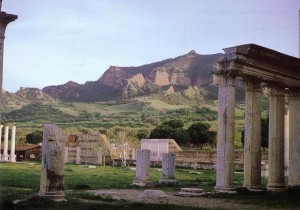 Sardis was the capital of the ancient kingdom of Lydia and one of the oldest and most important cities of Asia Minor. It was located inland and built on a small, elevated plateau which rises sharply above the Hermus Valley. On all sides but one the rock walls are smooth, nearly perpendicular.
Because of this the people at Sardis became complacent and in 549 BC the Median soldiers of Cyrus scaled the parapet, and then again in 214 BC Antiochus the Great captured Sardis because a Cretan slipped over the walls while the sentries were careless. This earned the label that Sardis could be taken by a thief in the night. According to historians, there was an arrogance and superiority about the city. Archaeologists think that the first coins used for currency were made in Sardis.
Rev 3:1
And unto the angel of the church in Sardis write; These things saith he that hath the seven Spirits of God, and the seven stars;
Jesus reminds that church at Sardis that He is the one that has the 7 Spirits (an idea from Isaiah 11) (which go throughout the world), and He has the 7 stars, which are the 7 angels. There is an implication in this that they have forgotten who is in charge. This church was know for their works, but they were works from a plan or system that analysed before doing. A big removal from the faith of the early church who were led by the Spirit.
…I know thy works, that thou hast a name that thou livest, and art dead.
"Protestantism today, as a whole, has a name that it lives, but it is dead. Many Protestant churches today are just going through the form. They are building all the time, and people are coming, especially on Sunday mornings. But there are not many at the midweek service, when they really ought to come to hear the Word of God. "Thou hast a name that thou livest, and art dead." This is a frightful condemnation and is a picture of Protestantism today". (J Vernon McGee)
This church has a name, reputation that it's doing fine  – but in Jesus' eyes it is dead.
In the same way, the church of the reformation was characterised by the different 'names' (denominations) that resulted from it.
…Be watchful… If there is one thing the Protestant church isn't it's watchful.
"Protestantism, as hole, has turned away from looking for the coming of Jesus Christ, and they have built up these systems that certain things must be fulfilled before He can come. My friend, it is tissue-thin from where we are right now to the coming of Christ for His church. He could come the next moment or tomorrow. Don't say that I said He is coming tomorrow because I don't know. It may be a hundred years, but, my friend, His imminent return is what we are to look for. Sardis didn't know when the enemy was coming, and we don't know when Christ is coming—we have no way of knowing at all. In view of the fact that the Rapture could take place at any moment, the church is to be alert. The date is not set, nor even the period in which He will come, and the reason for that is that the church is to be constantly on the alert for His coming.
"Looking for that blessed hope …" (Titus 2:13). You see, anyone can make ready for a fixed hour, but you must always be ready for an unexpected hour. (J Vernon McGee)
I remember hearing a sermon in a Protestant church saying that Jesus won't be coming back any time soon. Much of today's church is being brainwashed by things like 'The Purpose Driven life' (Rick Warren), which teaches that Prophecy is none of the churches business!
…and strengthen the things which remain, that are ready to die:
They had started out on the right path, but they had not continued to the end. Consequently, the things that had been started would die if they did not pursue them.
When something is planted it starts to grow, but unless it is cared for and maintained, it will die.
… for I have not found thy works perfect before God. Perfect = Complete
This is most defiantly true of the reformation church (Protestantism), they reclaimed many doctrines that had been corrupted by the Roman Catholic Church, but left just as many undone. And those that were done are now being undone.
Eg.     Salvation by faith alone – giving way for a works based system
         Repentance required   – giving way to 'we are all good deep down'
The Word is the foundation – giving way to we must find our own spirituality.
This church has appearance without reality, promise without performance.
Rev 3:3
Remember therefore how thou hast received and heard,
How did the reformation church hear and receive? By returning to the Word.
…and hold fast, a phrase often used in connection with holding onto sound doctrine…
…and repent. a doctrine misunderstood and often ignored today.
…If therefore thou shalt not watch, I will come on thee as a thief, and thou shalt not know what hour I will come upon thee.
As we have noted, this admonition was most apt for the church at Sardis, given the city's history of unexpected invasions. There is a real danger in complacency in the natural, but in the spiritual it can be fatal. This verse would indicate that many in this church system are not saved, because Jesus will not come 'like a thief' to true Christians whom Paul states 'are not in darkness that that day should overtake you as a thief'. However, to the unsaved, the coming time of Tribulation will come like a thief in the night, or as Jesus and the Old Testament prophets often describe it, like labour pains on a woman. (see 1 Thes 5:1-2).
It also shows that this church system is in existence at the time of the Rapture.
Rev 3:4
Thou hast a few  (Lit: a remnant) names even in Sardis which have not defiled their garments; and they shall walk with me in white: for they are worthy.
There are those (as with the church at Thyatira – the Roman Catholic Church) in the church at Sardis – The Protestant Church, who have not 'defiled their garments'  – and as we will see in Rev 4 and 19, all saints will be given a white robe to wear  – as would be done at a Jewish wedding feast.
Protestantism has certainly produced some great men of God. Romanism did the same thing, even during the Dark Ages, but that does not mean to commend the system. The system of Romanism and the system of Protestantism, as they are revealed in the great denominations which have departed from the faith, to me are the organizations which will eventually bring in the apostate church because they have departed from the great tenets and doctrines of the Christian faith.
(J Vernon McGee) 
Rev 3:5
He that overcometh, the same shall be clothed in white raiment; and I will not blot out his name out of the book of life  *x7,
(The Greek would read: "no I will never blot His name out…..")
It is no coincidence that the Protestant church begun in the Word of God, and yet has now whittled it away to suit themselves. Though the Protestant Church had in many ways blotted Jesus name out of the Bible – the Book of Life, He will not do so to those who are His.
but I will confess his name before my Father, and before his angels.
Awesome verse! Jesus will announce us before God! It would be embarrassing if it were not for the new clothing and new name. We should never be ashamed of confessing his name.
(Matt 10 / Luke 12)
Rev 3:6
He that hath an ear, let him hear what the Spirit saith unto the churches.
This is what the Holy Spirit is saying to the Churches – right now!
Chapter 3: 7-13 The Letter to Philadelphia 'the church of brotherly love' 1517 A.D–Rapture
The name means 'brotherly love'.  Clovis G. Chappell said, "Were it my privilege to go back across the years and attend a service at one of these seven churches, I think I should choose the church at Philadelphia."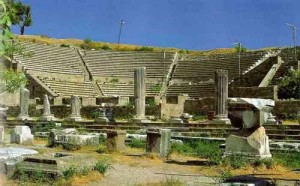 This was the church of 'brotherly love'; they had so allowed the Lord to permeate their lives that they had taken on His characteristics of love and were not just 'hearers of the word' as James speaks of, but they were 'doers of the word'.
Possibly the one characteristic that is missing from many churches today is brotherly love. We find ourselves focussed upon our own ministries and forget to 'bear one another's burdens, and so fulfil the law of Christ' (Gal 6:2). We put expectations on others and grumble and complain when they don't come up to our standards (as if we could ever come up to Christ's standards!) We should have a deep-rooted love and compassion for our fellow Christians; after all we are going to spend eternity with them!
When I was younger I knew that if I were nasty to my brother or sister, Dad and Mum would find out about it when they got home. Jesus is coming back soon, so let's make sure there are only good reports of what we've done to His other children. If we don't love, John says that it show that we don't know God (see 1 John 4:7-8).
The area around Philadelphia was rich farm land known for its rich harvest of grapes, mainly due to the volcanic ash in the soil. There were also frequent earthquakes, which meant that the people often had to pack up and leave. Consequently the people never got too attached to their surroundings or possessions. Philadelphia was the youngest of the seven cities, and was originally founded as an outpost for Hellenism – the spread of the Greek language and culture to the surrounding nations. (Derived from ' Héllen', the Greeks' word for themselves)
Just like the soil were they lived, the church at Philadelphia was also 'fruitful', and as all Christians should be, they were more concerned about heavenly things than the worldly things, which are only temporal. We are not of this world, nor should we love the world or the things in the world; all that is in this world is passing away. (1 John 2:15). 
Rev 3:7
And to the angel of the church in Philadelphia write; These things saith he that is holy, he that is true, he that hath the key of David, he that openeth, and no man shutteth; and shutteth, and no man openeth;
Unlike the other letters, where the description of Jesus is drawn from chapter 1 of Revelation, this description of Jesus comes from Isaiah 22.
"And I will clothe him with thy robe, and strengthen him with thy girdle, and I will commit thy government into his hand: and he shall be a father to the inhabitants of Jerusalem, and to the house of Judah. And the key of the house of David will I lay upon his shoulder; so he shall open, and none shall shut; and he shall shut, and none shall open."  (Isaiah 22:21-22)
The wording is particularly appropriate because as we will see, Jesus gives this Church an open door to preach the gospel – however not necessarily without persecution, but no one can stop it.  From a prophetic perspective has indeed been true of this church age. 
Rev 3:8
I know thy works: behold, I have set before thee an open door, and no man can shut it: for thou hast a little strength, and hast kept my word, and hast not denied my name.
Again, Jesus knows this church's works, and is obviously pleased because he gives them an open door. Whilst we know that we are saved by Grace alone – there is nothing we can add, James reminds us that faith without works is dead.
The 'open door' is evident in so many ways.
Evangelism: Almost all people we meet know that there is something wrong with the world – this is a great opportunity to witness, a wide open door.
Our own walk with the Lord: Never has been easier to read and study God's Word. This is another door that is now wide open – I even read recently of a Christian in a Muslim country where he cannot have a Bible or attend a church, but he secretly listens to J Vernon McGee's 'Thru the Bible' radio broadcasts, a verse by verse commentary that goes from Genesis to Revelation (thruthebible.org)
They have 'kept His word' – how refreshing in these days when so many seek after experiences and programs that they can sign up to, rather than the Bible.
'And not denied His name' – how could they it they are keeping His Word?!
Rev 3:9
Behold, I will make them of the synagogue of Satan, which say they are Jews, and are not, but do lie; behold, I will make them to come and worship before thy feet, and to know that I have loved thee.
This church age covers the post-reformation ages from 1750 right up unto the Rapture. This age has seen some of the greatest missions, missionaries, and preachers in history. Charles Spurgeon, Dwight L Moody, Oswald Chambers, Hudson Taylor, Billy Graham etc. etc.
But again, as we've looked at before, this idea that there are those who claim to be Jews, and are not, and lie – in a church age that last up to the Rapture, this can only be those who promote replacement theology, as we have already looked at in Rev 2:9. Even the great Martin Luther was anti-Semitic and thought that the church was the new Israel. 
Rev 3:10
Because thou hast kept the word of my patience, I also will keep thee from the hour of temptation, which shall come upon all the world, to try them that dwell upon the earth.
'Hour' is literally: 'Time of trial'. This is promised to those who keep His word.
The Flood as a type of the Tribulation: Noah (a type of the 144,000?) preserved through the flood. Enoch (born on Pentecost according to Jewish tradition – a type of the Church?) Raptured before the flood.
This 'hour of temptation' can only be the Great Tribulation, for no other trial in the bible will encompass the whole earth. The phrase 'them that dwell on the earth' could be translated 'earth dwellers' or 'those who choose the earth as their home' and appears elsewhere in the book. It is used in contrast to the Church whose home is in heaven (see John 15:19). 
Rev 3:11
Behold, I come quickly: hold that fast which thou hast, that no man take thy crown.
Again, crowns are promised to those who hold fast. Do you realise that this verse implies that someone could take your crown? How secure is it?
You obviously won't give it away. So the only way of losing it is if you are deceived. Again, deception is coming in these last days – be watchful and don't be deceived!
(For more on this see www.deceptioninthechurch.com also www.myfortress.org)   
Rev 3:12
Him that overcometh will I make a pillar in the temple of my God, and he shall go no more out: and I will write upon him the name of my God, and the name of the city of my God, which is new Jerusalem, which cometh down out of heaven from my God: and I will write upon him my new name.
In the temple in Philadelphia they would erect a pillar in honour of a pagan deity or emperor that they wanted to exalt. Jesus will exalt us in due time and honour us in God's house – we don't deserve this – it' is the very least that we can do to live 24/7 for Him now.
Rev 3:13
He that hath an ear, let him hear what the Spirit saith unto the churches.
Again, we all have ears.
Chapter 3: 14-22 The Letter to Laodicea 'the rule of the people' 1900 A.D–Tribulation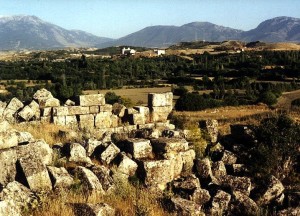 Laodicea was an important and wealthy city; that had a large Jewish population; like other cities in the region, it had become a centre for Caesar worship and the worship of Asklepios (having a famous medical school there in connection with his temple).
History records that an earthquake devastated the region in 60 AD, Laodicea refused help from Rome in rebuilding the city, choosing to rely on their own resources.
The historian Mounce said: "It is frequently noted that Laodicea prided itself on three things: financial wealth, an extensive textile industry, and a popular eye-salve which was exported around the world."
However, a poor water supply made Laodicea vulnerable to attack through siege; they were therefore quite accommodating to any potential foe, choosing rather to negotiate and compromise instead of fight.
The Romans had constructed a six-mile aqueduct from the hot-springs of the nearby mountain town of Hierapolis, down to Laodicea. However by the time that the water had got down to Laodicea it was lukewarm.
These historical details are very interesting because Jesus draws from these ideas  – that they were rich and in need of nothing, the notion of them being 'lukewarm' and given to compromise, the fact that they were comfortable and clothed (when in fact they were spiritually poor and naked), and that He could provide them with His eye salve that would help them to see spiritually. Jesus often uses real things to illustrate a deeper spiritual meaning. God will often use our circumstances to get through to us – a sad reflection that all too often we are not listening.
The church of Laodicea also represents the final church age, and again we find that situation at Laodicea fits our own time like a glove.
We are living at a time when 'the church' has become self sufficient, and is 'in need of nothing'; it has also repeatedly given in to compromise and become 'lukewarm'  – politically correct, not wanting to rock the boat; and now more than ever does the church need His eye salve that she might see things from Jesus' perspective.
It is generally agreed that this last church age began at the turn of the last century and will continue until the Second Coming, going through the Tribulation. This means that this church will not be raptured; in other words this church represents the apostate church, not real true believers. The call still goes out to any individual 'who has ears to hear', but the church at large is so far from God's word and so corrupt that it is not part of the body of Christ – the true Church. This point is made clear in verse 16 as we will see.
Rev 3:14
 And unto the angel of the church of the Laodiceans write; These things saith the Amen, the faithful and true witness, the beginning of the creation of God;
Jesus introduces Himself as the 'Amen' – the 'let it be so', the 'faithful and true witness', and finally 'the beginning of the creation of God'. All of these truths are being attacked in today's modern church. The lie of the Serpent in the Garden was 'Did God really say that?', and today we find pulpits full with those who try to teach that 'the Bible doesn't really say that'. Jesus is the Amen, the 'let it be so'.
Jesus is the faithful and true witness and yet today we even have groups of men (such as the 'Jesus Seminar' in the USA) who meet to decide what Jesus actually said, and what He meant by it; they then cast votes to decide what is true and what isn't!  This is madness! You can't vote on truth, Jesus said: "I am the way, the truth and the life…."
We could talk for hours about the last title Jesus gives Himself here – 'the beginning of the creation of God'. The term means 'the originator', the one who caused it to happen. We know from Colossians that Jesus is the creator of all things: "For by him were all things created, that are in heaven, and that are in earth, visible and invisible, whether [they be] thrones, or dominions, or principalities, or powers: all things were created by him, and for him:"       (Col 1:16)
It is hardly surprising to find fallen, sinful men trying to come up with theories about our origins that deny God's existence or involvement, but it is almost beyond comprehension to find (so called) ministers of the Gospel openly embracing the anti-God religion of evolution!
Recently in America, one State forced the schools to put a disclaimer on the textbooks saying that evolution was not a proven fact and just one theory about our origins. This caused such a stir and ended up in a court case where the State was told to remove the stickers! But most amazingly of all was that 200 ministers from various denominations all got together and wrote to the State pledging their support to the 'proven scientific theory of evolution' and saying that those who were against it were standing in the way of scientific progress!
Evolution is the single biggest hindrance to science that the world has known! – the mind boggles!
The really sad thing is that these were ministers who regularly teach their congregations; presumably that Jesus is our Saviour – but Saviour from what?  If evolution were true we do not need a Saviour, because we are continually improving. However the Bible teaches that we are a fallen race and desperately in need of a Saviour. How sad that thousands of Christians choose to go to churches were the word of God is 'trampled under foot' by these Biblically illiterate men (and women).
It is therefore no accident that Jesus gives Himself this title to this church – to this church age. 
Rev 3:15
I know thy works, that thou art neither cold nor hot: I would thou wert cold or hot.
It is so sad that so many 'Christians' fall into the category of being lukewarm. However it is the environment around something (or someone) that affects their temperature; so following on from the comments above, why do so many Christians stay at bad, 'lukewarm' churches? Because they are comfortable, because there is no real challenge, because they can have 'the best of both worlds' – so they think. The best of both worlds is a lie that Satan uses to keep us right where he wants us, because in so doing we become ineffective. If Satan can't have you, he might as well neutralise your potential threat to him by making you comfortable. If you're comfortable right now, stop for a moment and think why that is.
Rev 3:16
So then because thou art lukewarm, and neither cold nor hot, I will spue thee out of my mouth.
This is some of the most graphic language in the Bible. The true Church is Jesus' body. When a body detects poison in it, it expels it – violently if necessary for the sake of the body.
Jesus will spew this compromising church out of His body prior to the Rapture when those who have been washed by the water of the word, and continued in the doctrine they have received, and are without spot and blemish, will be gathered together to meet the Lord in the air.
Commenting on Rev 3:16, Calvary Chapel Pastor David Guzik says:
"Has there been a greater curse upon the earth than empty religion? Is there any soul harder to reach than the one who has just enough of Jesus to think they have enough? Laodicea exemplifies empty religion; and tax collectors and harlots were more open to Jesus than scribes and Pharisees".
In John 8, Jesus said to the Pharisees: I said therefore unto you, that ye shall die in your sins: for if ye believe not that I am [he], ye shall die in your sins (John 8:24)
The professional religious leaders of the day had rejected Jesus – the Word of God made flesh. Countless sincere but misguided Jews followed them. In fact Jesus Himself said: Every plant, which my heavenly Father hath not planted, shall be rooted up. Let them alone: they be blind leaders of the blind. And if the blind lead the blind, both shall fall into the ditch. (Matt 15:13-14).
It is no different today. Pulpits are full of evil men and impostors just as the Bible said it would be (2 Tim 3:13), who go about deceiving, and being deceived, who have a form of godliness, but deny its power (2 Tim 3:5), supposing that godliness is a means for gain (1 Tim 6:3-5). Paul tells us that we are to turn away from such people.
Jesus said to His disciples in Luke 21:8 that they should pay attention because the last days would be characterised by people coming 'in His name' and claiming that they are 'Christ'.
The New Age is already talking about 'Master Jesus' who is coming, and sadly Eugene H Peterson in 'The Message' 'Bible' uses various New Age terms, as does Rick Warren in his 'Purpose Driven Life'. It appears as if people are getting softened up ready for a major wave of deception to hit the church.
This is not about sincerity. Most people in churches are sincere, but you can be sincerely wrong as well sincerely right. Jesus even refers to those who have preached and prophesied in His name and done miracles, but they were preaching 'another gospel' (Gal 1:8), like the Pharisees they too will 'miss out'. (See Matt 7:13-23).
Anyway, getting back to the verse, Jesus will spue these people out of His mouth – get rid of them from His body. When? I believe it will happen before the Rapture, which will then leave the true Church to be Raptured, and the apostate church to go into the Tribulation, eventually forming a one-world religion (with the Catholics (see the church of Thyatira above) and Muslims and New Agers etc.)
Signs of the times
One result of the rise of 'Islamic State' or ISIS, has been a softening of Islam and a distancing of 'general' Islam from 'fundamental' Islam. Fundamental Islam is now being 'hunted' while moves are now afoot to bring a greater understanding and unity between Muslims, 'Christians' and Catholics – all in preparation for a one-world church/religion, which will culminate in the worship of Antichrist.
Rev 3:17
Because thou sayest, I am rich, and increased with goods, and have need of nothing; and knowest not that thou art wretched, and miserable, and poor, and blind, and naked: Could we better describe the church in today's world? The Church has become a business in many cases, and is focused on profitability and success, as seen by the world's standards.
"The only certain barrier to truth is the assumption that we already have it" The church today, in many cases, thinks it has all truth, even that it makes truth, and therefore is not interested in learning from the Word of God.
"What a mistake we make if we think that the church has the authority to decide what is right and what is wrong. – Chuck Missler
The inscription on the cathedral in Lübeck, Germany, is still true:
Thus speaketh Christ our Lord to us:
Ye call Me Master and obey Me not.
Ye call Me Light and see Me not.
Ye call Me Way and walk Me not.
Ye call Me Life and choose Me not.
Ye call Me Wise and follow Me not.
Ye call Me Fair and love Me not.
Ye call Me Rich and ask Me not.
Ye call Me Eternal and seek Me not.
Ye call Me Noble and serve Me not.
Ye call Me Gracious and trust Me not.
Ye call Me Might and honor Me not.
Ye call Me Just and fear Me not.
If I condemn you, blame Me not.
Rev 3:18
I counsel thee to buy of me gold tried in the fire, that thou mayest be rich; and white raiment, that thou mayest be clothed, and that the shame of thy nakedness do not appear; and anoint thine eyes with eyesalve, that thou mayest see.
This is the church in the world in its final pitiful state. This church is made up of all the bad elements of Thyatira and Sardis + a big dose of complacency.
Jesus pleads with them, but they appear not to be listening – how sad this must be for Him.
It is worth mentioning again that Jesus does not want anyone to perish, but a false religion is as bad as no religion. There is only one way for people to be saved, by repenting from sin and trusting completely (and only) in the Lord Jesus Christ.
Rev 3:19
As many as I love, I rebuke and chasten: be zealous therefore, and repent.
This shows the Father-heart of God. A child once asked his dad, "Is God always watching me?" The dad replied, "Son, He loves you so much He can't take His eyes off of you!"
What an incredible love that God has for us that He won't leave us where we are, but continually moves us on in Him.
"My son, do no despise the chastening of the Lord, nor faint when you art rebuked of him: For whom the Lord loves he chastens, and scourges every son whom he receives."            (Heb 12:5-6)
Rev 3:20
Behold, I stand at the door, and knock: if any man hear my voice, and open the door, I will come in to him, and will sup with him, and he with me.
Jesus is on the outside of the door of this church knocking. As He is with all men everywhere who are called to repent – the handle is on the inside only. It's up to us to open the door, if we want to. How could we say no to this Man?
Rev 3:21
To him that overcometh will I grant to sit with me in my throne, even as I also overcame, and am set down with my Father in his throne.
This is a dreadful church age, indeed the call is to overcome.
Note: Jesus has sat down on His throne. There He will stay until He comes to take us home. So therefore any person that claims to have seen Jesus, or been visited by Jesus before that time (there are plenty of candidates on the GOD Channel etc), must have seen a different Jesus – i.e. been deceived. Particularly sad when Jesus said that this is what we should watch for so that we are not deceived!
Rev 3:22
He that hath an ear, let him hear what the Spirit saith unto the churches.
All ears, all churches.
To be continued…
Every blessing,
Pastor Barry